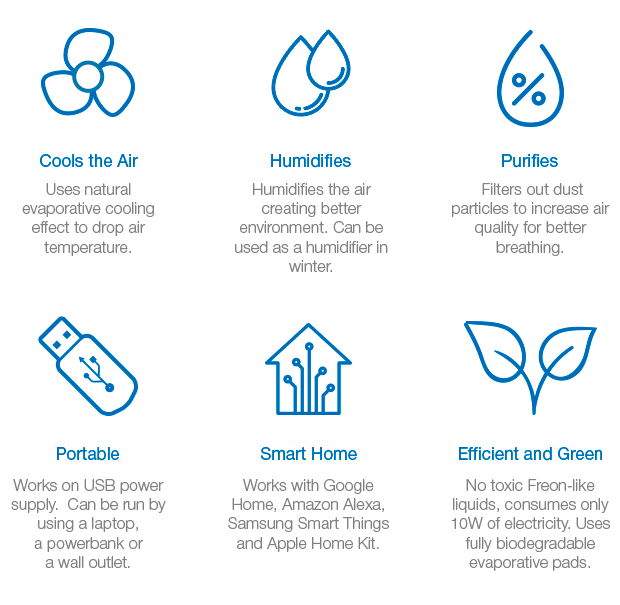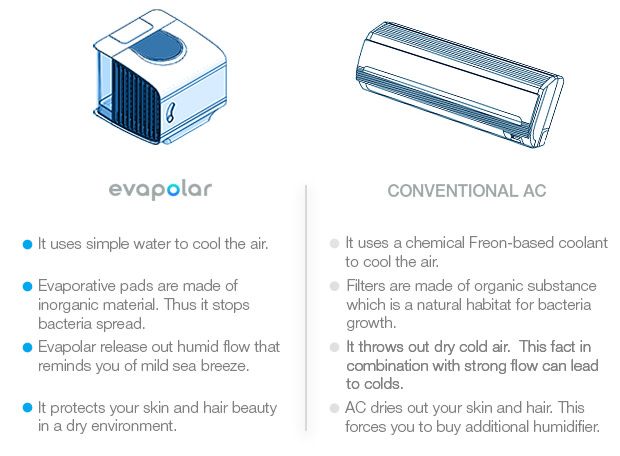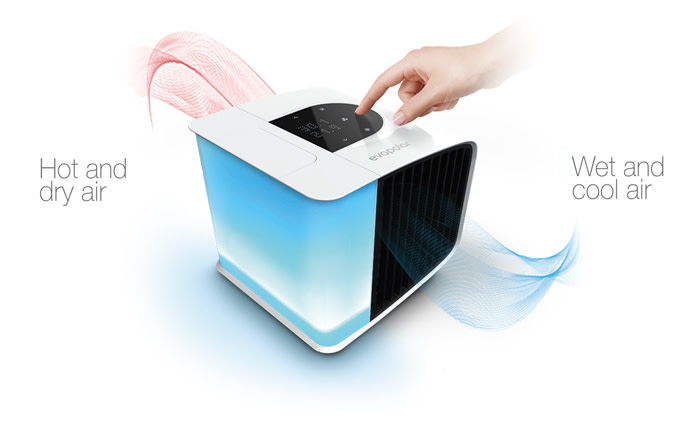 Evapolar EvaSMART Advanced Edition Mini Smart USB Portable Air Conditioner
Following the 2017 generation of the popular Evapolar EV1000, Evapolar has launched an upgraded version: the EvaSmart Ev3000's USB portable air conditioner.
The second generation of EVAPOLAR has significantly enhanced water tank capacity, wind power and cooling, and with the control functions of APP and Amazon Alexa, users can remotely control temperature and LED light color effects on mobile phones. The air-conditioning of the EvaSmart Ev3000 covers 4 square meters and creates 4 square meters of private air-conditioned space.
The specifications of the second-generation Evapolar air conditioner have also been greatly improved! In addition to the EvaSMART can be controlled by APP phone, the appearance is larger than that of the first generation, and the coverage is also greatly increased to 4 square meters (about 43 inches), which is absolutely suitable for small families.
The shape is square and still has LED lights. There is a microUSB jack on the back of the unit, which can be used by the connection transformer or it can be powered by an external charger.
More environmentally friendly patented refrigeration principle
Evapolar's cooling method is different from that of ordinary air conditioners. Although it also has a fan, it does not cool the air through the refrigerant. Instead, it uses a special water-absorbent material called basalt fiber. The process is physical and does not use damage. Environmental chemicals.
Basalt fiber This material absorbs a large amount of water and then carries away the temperature when it is evaporated, so it can effectively produce a cold air mass with humidity.
Because Evapolar small-flow air-conditioners involve water in the process of cooling, they are not only USB seat air conditioners, but also Evapolar two-generation air conditioners can adjust air humidity and purify air. Cool air is cool but not dry!
Features:
Portable air conditioner

Evaporate water into water vapor to achieve cooling temperature

Coverage to 4 square meters

Can be powered by an external charger

Only 5V/2A USB power supply, cooling capacity is 10% higher than the previous generation, up to 1360BTU/hr

Replaced a fan with a higher air intake, which is cooler and less noisy

APPS full control

Increased tank capacity to 1.3 liters

Water leakage prevention design

Air purification

Air humidity balance
Specifications:

Weight: 1.8 kg

Cooling power: 100 W – 400 W / 340-1360 BTU/hr

Energy consumption: 12 W

USB type C jack for charging on mobile power

Wi-FI: 2.4GHz

Noise: 25-40 dB

Water tank: 6-8 hours

Water tank capacity: 1300 ml

Dimensions: length 184mm x width 217 mm x height 207 mm
Whats' in the box:
Mini portable air conditioner

manual

charger

Charging Cable
EvaSMART- Advanced Portable USB Air Cooler
Advanced 3-in-1 Portable USB Air Cooler & AC, Air Filter and Humidifier.
Availability:

In Stock

Product Code:

EVA-SMA

Average Rating:
Price:
---
YOU MAY ALSO LIKE
Tags: Smart, Personal, Air Conditioner, Smart home gadget